Community banks play a critical role in their local economy, and a bank's leadership position in the community is second to none. To maintain this position, community banks of any size must leverage existing and emerging technology tools.
Robotic Process Automation (RPA) is a helpful tool that community banks can use in their daily bank operations. This type of automation is low cost, easy to deploy and simple to maintain. Systems do not need to be reconfigured, and you can leverage your investment in existing systems to the bank's benefit.
In community banks, RPA may be used throughout a bank's functional areas such as operations, accounting, and compliance where many
tasks are repetitive and manual. Centered in business logic and based on structured inputs, an RPA will automate manual tasks and reduce the countless hours of manual work to just minutes. This type of software automation, often referred to as a "robot," is now an important part of
a bank's technology ecosystem.
RPA usage and adoption has many benefits. Given the ever-changing workplace environment—from staffing to remote work to accelerated business demands—the function and purpose of RPA will continue to grow in importance.
10 Improvements RPA Can Do for Your Bank
Eliminate manual, repetitive tasks and reduce errors (think: spreadsheet input)
Help banks stay current by digitizing and automating processes
Bring data together from multiple data sources into one view
Enable staff to focus on strategic projects that help move the bank forward
Manage and reduce operational risks
Lower expenses
Lead to new revenue growth
Improve data analysis and report presentations
Enhance the customer experience
Scale as business needs evolve
BankWise Technology provides streamlined RPA services to clients within our Happy Banker platform which integrates with FIS Horizon®.
Our RPA solutions can also work outside of Happy Banker or for banks operating on different core or cloud-based platforms. The RPA Happy Banker platform offers various plug-n-play functionality for banks, including:
Document generation
Data imports and exports using various formats such as CSV, Excel, DOC, PDF
Spreadsheet manipulation
Seamless and secure data transfer
Web-browser automation
Third party integration using API or direct database connection
Our approach to building and maintaining RPAs is straightforward. After an initial client-business analysis consultation, we will design an RPA solution based on the project's scope. We then build it in a test environment. After rigorous testing, it is ready to be deployed into a production environment.
The banking business is dynamic. To make best use of our clients' RPA solutions, we provide ongoing service that lets you focus on other strategic objectives. Our deep knowledge of the banking industry allows us to develop and implement RPA solutions for our clients effectively and efficiently.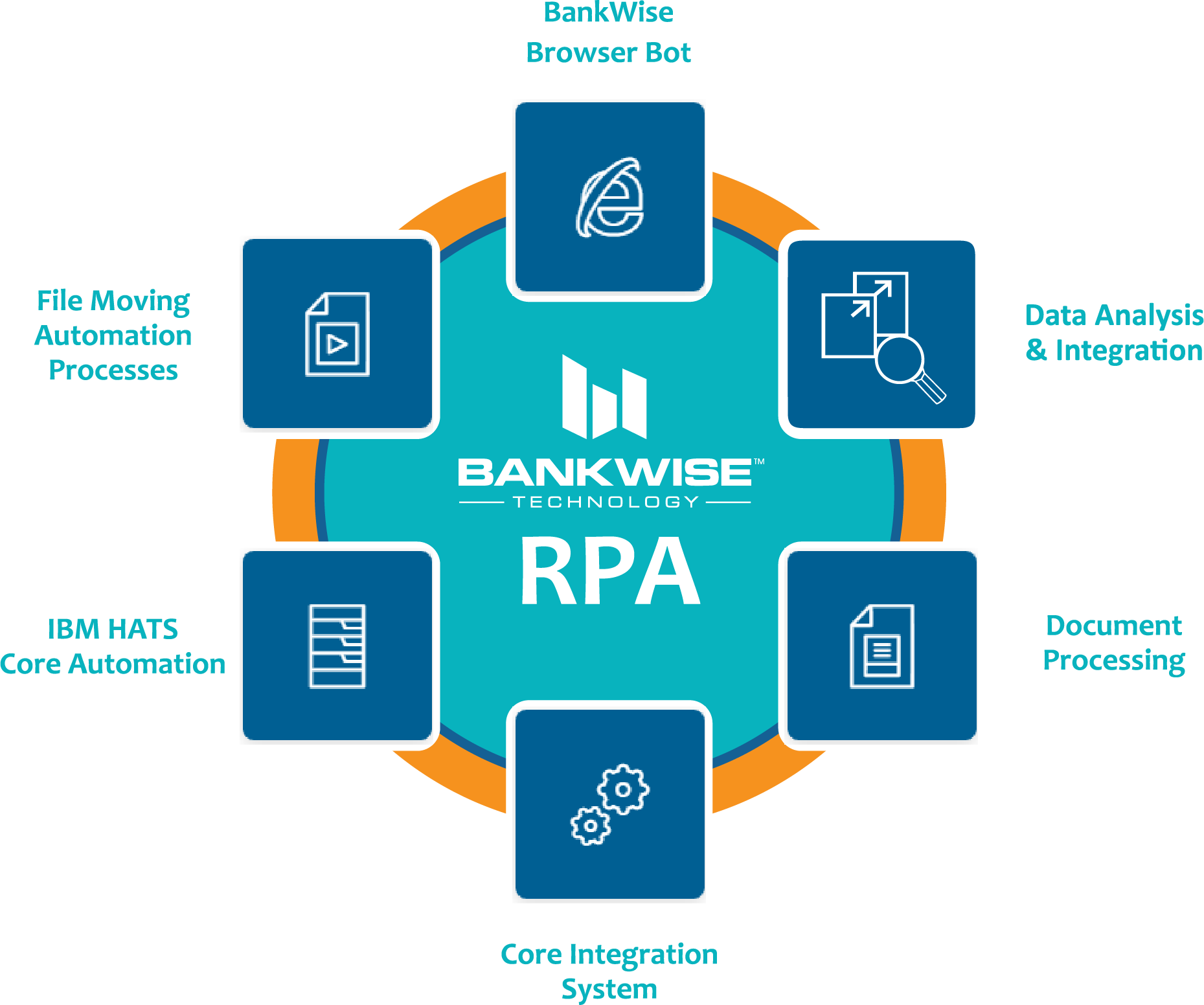 Other common uses for banks using RPA include:
Loan processing
Account opening and closing
Compliance, e.g., Know Your Customer (KYC), Anti-Money Laundering (AML)
Fraud detection
Account reconciliation and quality assurance
General ledger
Credit underwriting
Monthly account reviews
Regulatory reporting
Bank operations will continue to evolve as will the challenges of staff procurement, internal and external reporting requirements (from regulatory to board) and close attention to revenue and efficiency. RPA can help. Though there are many technology tools available for community banks to use, RPA solutions are affordable, easily deployed, and managed.
Let's discuss how our RPA solution can help automate many of your bank's common tasks. With RPA, your staff will not only be more productive, but they will also have more time to focus on other project priorities in your IT queue.
Please schedule a time that is convenient for you to learn how RPA can help your bank.
About BWT
BankWise Technology (BWT) is a New York – based fintech company focused on providing custom applications and plug-n-play interface modules for community banks and credit unions. The BWT team has combined experience of more than 60 years in the financial services industry and a variety of expertise from front and back-end application development to planning and implementation. Our staff has an extensive background in working with community banks; many worked in-house for a leading, regional community bank in New York. Our work continues to assist these forward-thinking financial institutions to continually look for ways to increase operational efficiency while developing new products and services that are unique to their market. From managing PPP (Payroll Protection Program) loans to Bitcoin rewards checking and FIS Horizon® core system interfaces BWT can help.